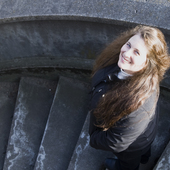 By Barbara Le Pine, Your agent for the Central Oregon Coast!
(ADVANTAGE REAL ESTATE, serving Lincoln County)
This photo taken during an inspection of a home I have in escrow in Newport, Oregon, on the Central Oregon Coast near Agate Beach. There was a cabinet that was painted shut, inspector asked me if I could gently pry it open to see if we could find electrical box. What I found was much more interesting!! Home was built in 1955.  A crusty old cabinet which looked like it may have once held Ball jars full of homemade jellies had old newsprint underneath the linoleum flooring lining the shelves. I took a photo with spiderwebs intact for your viewing pleasure. I think it is truly a work of art.   Enjoy!