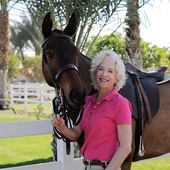 By Kimberley Kelly, SFR, HAFA, GREEN, I do Real Estate like I played polo-to WIN!
(HK Lane, Christie's International Affiliate, 760-285-3578)
The highest recorded Luxury Home Sale to Date for the Palm Springs Valley just closed. Listed at 9.75 million, the sale is second only to the sale of the former Blixseth estate, Porcupine Creek. Porcupine Creek is not a good comparable (Sold for 42.9 million recently), because it included a private Golf Course as well as four guest homes! But..for a single family residence, this 9,798 sf home on approx. 2.2 acres at the Bighorn Golf Club pushes our Luxury Home prices to anotehr level. A sale of this magnitude, in this market, lends some weight to the theory that the market is very strong at the very top. Luxury Homes in the Valley have continued to sell, although many have experienced drops of approx. 35% from the housing peak days of 2005-2006. When a great value comes up, or a luxury ...