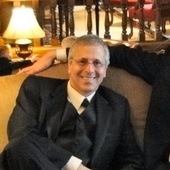 Real Estate Agent
Robert Hammerstein
Bergen County NJ Real Estate
Hillsdale, NJ

—

Christie's International Real Estate
Serving the Pascack Valley Areas of |Hillsdale| Westwood| Park Ridge| Washington Township | Montvale| Emerson | River Vale | Old Tappan | New Jersey | The Northern New Jersey areas of Bergen County
Get to know Robert Hammerstein
 
Buyers will find us to be not only knowledgeable about the Pascack Valley and surrounding Bergen County areas but also about the Home Buying process.  We'll walk you through the entire process from the start guiding you through the mortgage pre-qualification process to finish and will make sure you feel comfortable about understanding the process.  Through technology, we'll keep you up to the minute on all new listings to suit your criteria for the perfect home in your area of choice.  From financing your new home to understanding the Real Estate Contract to a successful Closing when you get the keys to your new home!  We will utilize our negotiation skills to get you the best value for your budget.  We're available by telephone or e-mail anytime of day and night and we return all phone calls promptly!
Check out some of the Top Places To Live in America, as reported by CNN's Money Magazine.  The Pascack Valley's own town of River Vale is #29 on the list!  Many of the Bergen County and particularly Pascack Valley towns share the same criteria used in the development of this list of towns.  We're here to offer free information about the Communities we service.  We don't stop there either.  We take time to listen to your needs and develop a strategy for making sure you find the perfect "Home of your Dreams"!


Bob and Lisa - Your Hometown Winning Team!
Robert Hammerstein's Blog Posts
Real Estate Market Trends
–

almost 2 years ago
Real Estate Market Trends
–

about 2 years ago
Real Estate Market Trends
–

about 2 years ago
Real Estate Market Trends
–

about 2 years ago
Hillsdale New Jersey - My Hometown
A quick video of my Hometown Hillsdale New Jersey. Where I grew up and where I still work.
Certifications
Contact me with confidence in knowing that I was born and raised in Hillsdale and have a vast knowledge and historical backround in the town of Hillsdale New Jersey as well as surrounding towns of Westwood, Emerson, Woodcliff Lake, Park Ridge, Montvale, Washington Township, River Vale and Old Tappan. Pascack Valley has been my area since I was born. My grandfather was a builder in the town of Hillsdale. I have a rich history having been raised in Hillsdale. I have seen the town change over the years and seen the progress which is happening all the time.

   
 Hillsdale A down-to-earth residential community, where families enjoy a safe, quiet quality of life. The Hillsdale borough has a population of approximately 10,000. It has many qualities that strongly appeal to home buyers, including an excellent Pascack Valley School system, recreation groups and facilities as well as a solid transportation infrastructure.  Hillsdale was the subject of a 2004' article in the The New York Times, titled A Haven For Commuters with Families.  For even more information about the town of Hillsdale visit our full service website page about Hillsdale.
 
Westwood is known as the 'Hub" of the Pascack Valley area in the center of Bergen County and is approximately 10 miles north-northwest of the George Washington Bridge and approximately 7 miles south of the New Jersey - New York state border. Westwood has a trendy downtown Business District with Stores that are sure to appeal to everyone.  The Pascack Valley Train line also stops in Westwood and NJ Transit Buses are also plentiful.   Westwood schools are top notch and children are joined by the children from Washington Township to attend Westwood Jr/Sr High School.  For even more information about the town of Westwood visit our full service website page about Westwood.

River Vale is a small township setting a new standard for family living. Real estate options consist of single-family homes, condominiums and townhouses. The River Vale community has a lush, park-like character, prompting some to call it the Garden Spot of the Pascack Valley. The scenery is further enhanced with quaint, winding roads and scenic, historic homes.  River Vale Golf Courses are an enjoyable community feature.  Along the same lines as the Hillsdale New York Times article, the township of River Vale was featured by Money Magazine as number 29 on their list of the Top 100 Places To Live In America!  The River Vale Schools manage three campuses, serving the elementary and middle grades. High school students then move on to the Pascack Valley High School, where they are joined by Hillsdale students. For even more information visit our full service website page about River Vale.

Emerson The quintessential Suburban Community of Emerson has a closely knit population that truly deserves its reputation as "The Family Town".  Like so many of the Pascack Valley towns, the town center revolves around it's transportation link to NYC with a quaint Train Station and convenient strip of shops and Restaurants.  The town main strip is currently undergoing many changes with an updated New Emerson Pharmacy, affordable Senior Housing Complex as well as the strip mall on Kinderkamack Road.  This mall promises to be a super convenience to the local residents of the Emerson community which now includes a Super Stop n' Shop.  The Emerson Schools are highly rated and enjoy a rich Sports program.  For even more information visit our full service website page about Emerson.
                                                                                                                                                                                                Washington Township Is an upscale town which has maintained it's family atmosphere.  The town of Washington Township has undergone recent updates to keep up with the ever changing times.  The Township's Public Library got a new face lift along with the conveniently located town shopping center on Pascack Road.  Residents are sure to meet their basic needs with a major Grocery Store as well as Family Movie Theatre and several other specialty stores and eateries.  Picturesque Schlegel Lake in the center of the township can be enjoyed by members as well as residents taking a stroll down the street surrounding the Lake.  The township is also known for it's Condo complexes located conveint to major highways.  Washington Township Schools are also top notch and the children join the town of Westwood to attend Westwood Jr/Sr High School located in Washington Township.  For even more town information visit our full service website page about Washington Township. 

Woodcliff Lake Is an upscale community occupying less than 4 square miles of the Pascack Valley area.  The residents enjoy residential dwellings set on properties of no less than 15,000 square feet. Many well known Corporations have made Woodcliff Lake their home.  Names such as Ingersoll Rand, BMW, Hilton Hotel, Perillo Tours  as well as Sony and KPMG.  The borough of Woodcliff Lake offers two large recreational facilities.  A County Park named Wood Dale occupies 55 acres and has a large pond which doubles as an Ice Skating Rink in the coldest Winter months.  There are also walking paths, children's playground and  tennis courts. The Old Mill Complex and a local Park, contains a large swimming area.  There are lighted tennis courts and full size athletic fields for a variety of sports throughout the town.  Woodcliff Lake Schools are high quality and the children join the Montvale children to attend one of the best High Schools in New Jersey to attend Pascack Hills High School.  The popular scenic Woodcliff Lake Train station offers the Pascack Valley Train line for commuters.  For even more town information visit our full service website page about Woodcliff Lake.

Park Ridge  Is a compact community located on less than 3 square acres and enjoys some of the lowest property tax rates in the Pascack Valley region.  The town of Park Ridge operates it's own Electric Utility and the lowest electric rates in New Jersey are enjoyed by it's residents.  The town also has it's own Water Utility and it's rates are 20% lower than the local Water Facility.  The Park Ridge High School was rated in the top 10% of public High Schools in New Jersey with it's students going on to some of the most competitive Colleges.   Park Ridge offers it's residents an Olympic sized Municipal Pool as well as a 12 acre pond which also doubles as an attractive Park area.  The borough is the home of the upscale Bear's Nest Townhome complex, the former home to our past President Richard Nixon and Mrs. Nixon.  The Pascack Valley Train line goes through the small town for the convenience of commuters.  Although small in size, Park Ridge offers it's residents big opportunities for all to enjoy!  For even more town information visit our full service website page about Park Ridge.
Montvale The Borough of Montvale offers a broad and diversified program of activities for everyone old and young alike.  Starting with the Four parks offering such activities as tennis, basketball, soccer, football, baseball, roller hockey & softball to name a few. If you enjoy bowling than you can find that too at the Montvale Bowling Lanes.  And for the horse lover, Mar-Bel Stables offers riding and stabling services.  Outdoor Pool facilites are available to Montvale residents on a membership fee basis by the privately run Montvale Swim Club.  For the active Senior, the Montvale Senior Club has various trips and activities.  Top quality Montvale Schools offer children superior education.  Pascack Hills High School is one of the area's top rated schools with students grades 9-12 from Montvale and Woodcliff Lake in attendance.  The Pascack Valley Train line as well as NJ Transit buses are available for the convenience of commuters in the community.  For even more town information visit our full service website page about Montvale.
 Pascack Valley Home Seller Information
  Choosing the right Realtor® can make all the difference in the World!  
Technology in the Real Estate world has become an invaluable resource.  Learn how this can help you! 
Having a Full Time Realtor® Team well versed in the area as well as the most cutting edge technology available brings an unparalled level of service to your marketing needs.  Selling a home can be a stress-free process when you have a Professional Team on your side.  In today's competitive market, we are here to offer you the very best in customer service.   We'll show you how our service rises above all others.
When setting the price for your home, we will also share some valuable tips on preparing to realize the most money for your most valuable asset. 
We welcome the opportunity to offer you an in-home presentation to discuss your real estate goals.  Click here to request a Free Presentation!
Our focus is always on our customers and their real estate goals.  But if you are interested in our track record or the awards and designations that we hold, click here for our List of Awards.
Wondering what your home is worth? Click here to find out Your Bergen County Home Value.
Awards
The following is a list of our accreditation's & awards: 
. Licensed Certified Realtors 
. Members N.J. and National Assoc. of Realtors 
. Members Multiple Listing Service 
. Member Million Dollar Sales Club – 2000 & 2001
. Member Circle of Excellence Club - 2002-2006
. ReMax Executive Club-2000
. ReMax President's Club-2001-2003
. ReMax 100% Club – 2004 - 2006  
. E-Pro Certified (Lisa) 
. Certified Residential Specialist (Lisa)
. We are always pursuing on-going education in the field of technological advances in the industry utilizing Computers and the Internet.
 
Skills
Well versed in the Pascack Valley of Bergen County, a lifelong resident in our areas. Complimenting our services with a vast historical knowledge of our service areas.
Testimonials for Robert Hammerstein
I have worked with Bob in selling two homes very quickly, one in 2009 and the other in 2010. The one in 2009 was mine and in 2010 it was my parents. He is very web savy, takes great pics and is very up front with you. If I still lived in NJ I would use him again. You can't go wrong when you use Bob!

Claudia and Evan Cooper

03/15/2015

Bob and Lisa were very professional but we felt as though they were family in the way they cared about our concerns in selling our home and buying our new one. They were never more than a phone call away and supported us through a somewhat difficult sale and purchase. They helped us stage our home and then Bob took wonderful pictures of our house and they both guided us through each step of the transactions with the sale and purchase. We would and have recommend them to friends and if we ever leave our dream home, we will certainly make them our first call!

Stacy and Brian Marolda

08/08/2014

Helped me buy a home

Bob and Lisa are a great team. My husband and I first contacted them to sell our home in Fort Lee. Once we successfully (and happily) brokered that deal the house hunt was on. They are always accessible and always happy to answer questions. They are patient and caring which is very refreshing. We trusted them completely to have our best interests at heart. Highly recommend them for all real estate needs.

Jessica and Hershey Groff

07/11/2014

Lisa and Bob helped us to purchase our first home. They were constantly available to us, sending us emails with new home listings almost as they hit the MLS! Their courtesy and professionalism were unmatched in what turned out to be a complicated and contentious real estate deal. They helped in negotiations with a difficult seller, and made mountains move when we needed them! They were honest and disclosed any situation that they felt might be worrisome in the homes we were viewing, and even went outside of their normal area and researched the places that my family and I wanted to look. I would whole-heartedly recommend them to anyone looking to purchase or sell their home!

John and Ivy Liang

07/11/2014

As first time home sellers, we searched online for real estate agents and talked with couple of agents, and chose Bob & Lisa as our agent. The outcome they delivered proved we made a correct and wise choice. Their professional services were excellent!

Valerie Kerekes

07/08/2014

Bob and Lisa were recommended to us from a relocation realtor. They helped us sell two homes and made the transitions run smoothly. Relocating is always stressful, even if it's something planned and they were very knowledgeable and helpful. We would highly recommend Bob and Lisa Hammerstein!

John and Chrissy Z. - Emerson NJ

11/01/2012


As first time home buyers we discovered Lisa and Bob online and chose them as our agents. We found that having a husband and wife team really worked to our benefit as they were ALWAYS available for us. They are extremely responsive and up-to-date with all the latest technology. If you're looking for true realtors with heart, then Lisa and Bob are your agents. They were very patient with us and were careful not to pressure us into anything. They ultimately found us our house and we are now happy first time homeowners and neighbors.
John and Chrissy Z.


Charles and Indy Shyy - Paramus NJ

08/11/2010

"Thank You!"
You guys couldn't be any more patient with us!! We must have seen over 100 homes and asked several hundreds of questions...Thank you!!



June, Saimir, Lynda, Tasim, Irene - Harrington Park NJ

06/12/2009

"We think you make a great team!"
"It really has been a pleasure working with you both. We think you make a great team and appreciate your accessibility to our questions no matter how insignificant they might have seemed at times. You are both wonderful! Thank you for the thoughtful house warming gift. Any time you are in the neighborhood, feel free to pop in and say hello.

We will definitely keep in touch.

All the best,



Sue Zagoda and Peter Rosengren - River Vale NJ

04/08/2008

"Thanks for everything you and Bob did for us."
Hi Lisa & Bob,
Thanks for everything you and Bob did for us. It was comforting knowing you guys kept an eye on the house all those months for us. It has been so difficult for me these last weeks as the end comes closer, but I am looking forward to moving on. Again thank you for everything.


Introducing a fresh new look for your Profile.
Click the 'Edit Profile' button below to enter 'Edit Mode' and continue the tour.