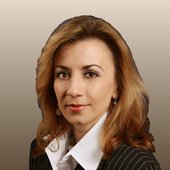 Real Estate Agent
Meli Gerogianis
Broker, CRS, ABR, SFR, CDPE, Licensed in TN & KY
Clarksville, TN

—

JKA Properties (Meli G Realty & Investment Group)
Licensed in Tennessee and Kentucky! We specialize on long distance buyers & sellers! We bring the Real Estate to YOU across state & international lines! Custom Real Estate Services to suit your needs
Get to know Meli Gerogianis
Real Estate is my passion! It's what I love to do! ... and everyone knows if you do what you love, you do it right, and you do it well! I work with customers of all levels: buyers, sellers, investors! I enjoy spending time with them and helping them accomplish their real estate goals!
I am a long time resident! I have lived in the Clarksville, Ft Campbell area for over 16 years and have acquired valuable knowledge about the area and its residents, as well as, the growth and development of Clarksville Real Estate.
Customer Service is my #1 priority!If you are looking to buy, sell or invest in Montgomery County, TN, Clarksville, TN or Ft. Campbell, KY areas, I'm at your service! Feel free to give me a call, e-mail me at mgerogianis@realtracs.com or visit my websites at www.JKAproperties.com for additional information or up to date listings of these areas.
Selling or buying your home is one of the most important decisions you will make in your life. As Your Realtor, it is my job to guide you through this complicated process, from beginning to end. My goal is to get you maximum value with the least amount of headaches possible, and within YOUR time frame! Your satisfaction is my main goal! I treat every one of my customers if they were my only customer!
Integrity!I believe very strongly in Integrity - in doing the right thing! Real Estate is a customer oriented business and as such, it is very much dependent on referral and return business. When we treat a customer right, it comes back to us, and when we treat a customer wrong, it still comes back to us. I believe in giving all customers full attention and service, listening to their needs and wants, helping them resolve all situations within my expertise and always going the extra mile for that special touch in every case!
I specialize in Listing and Selling Residential, Multi-family, and Investment Properties.
I work with all levels of buyers and sellers, be that a first time home buyer with no experience in the real estate market and needing every piece of information they can get to make sure they make the right decision, ... , or be it an experienced buyer that has purchased a home before and is looking to upgrade to a bigger or luxury home, or an investor purchasing several properties per year needing to get the best deals and the best tax shelters for their investments.
I am e-PRO certified, I am a member of CAR (Clarksville Association of Realtors), TAR (Tennessee Association of Realtors), NAR (National Association of Realtors), REALTOR.org, Real Town, and a member and subscriber of the local MLS. Membership in these organizations helps provide me with educational material to improve my skills and also up to date information to pass on to my customers.
Professional Results with a Personal Touch!
Whatever your reason for being in the Real Estate market, if you are looking to purchase in Clarksville, TN, or anywhere in Montgomery County, TN, please, give me a call, e-mail me or visit my website at www.ClarksvilleLiving.com for additional information or up to date listings of these areas.
I worked for many years as a marketing director for a big company and that experience, combined with my passion for Real Estate gives me the perfect balance to provide great service to both buyers and sellers. I have many years of experience in using all-media advertising, be it print advertising: newspapers, magazines, direct mailing campaigns, door to door farming and everything in between; internet based advertising: websites, e-mail campaings, internet lead capturing and such; local TV and radio advertising; and any other unusual and out of the box ads that do not fit in any of the above categories.
How does that benefit YOU, my future client? If you are a Seller, I'm sure you get it! Your house will be listed and shown in anything and everything that is available for use, making it possible for many potential buyers to have fast and accurate information in hand. That in return will sell your house fast, for the most amount of money and in the least amount of time. If you are a Buyer, you will be able to access these listings in any media you wish to use for your research in finding the house of your dreams. You will also be able to communicate with me and receive additional information however it is easiest and most convenient to you: e-mail, telephone, or fax, web links, video clips, and more. Isn't that a wonderful service to the clients?! In today's lifestyle, we all crave information and we want it here and we want it now. Well, I will be able to provide that for you in the way, form and shape that you need it!
I am e-PRO Certified! What does that mean? When you're on the Internet looking for a home, you don't have time to waste on endless searches for useful real estate information. You want to get things done quickly and without hassle. So chances are you'd like a real estate agent who:
Answers e-mail promptly and professionally Respects your on-line privacy Offers home listings and other Internet tools to help you find or market a home
This is what an e-PRO is! It is a REALTOR that has gone thru many hours of training to complete a special program, endorsed by the National Association of Realtors that provides them with the knowledge and the right tools to do real estate online. e-PROs are more likely to have access to the latest Internet utilities, making your life easier. These tools may include:
Online Home tours Instant access to comprehensive neighborhood data Extensive property listings Immediate e-mail notification of just-listed homes meeting your criteria Referral networks and online forums, where e-PROs can quickly find information - even potential buyers - from other e-PROs Newsletters on current real estate conditions in the area Electronic faxes sent to you by e-mail Advanced software, PDAs, and laptops to find you answers on the spot
The result: you get more information, more easily. With electronic files, you have less paperwork to deal with. And since I use mainly e-mail, you can even eleminate phone tag. As an e-Pro, I streamline your entire transaction, from showings to closing.
Meli Gerogianis's Blog Posts
Certifications
Clarksville-Montgomery County is a growing community located in Middle Tennessee, directly off of I-24, approximately 40 miles northwest of Nashville and approximately 250 miles from the population center of the United States. We are within a day's drive from 76% of major U.S. cities. The Nashville International Airport is approximately 45 minutes from Clarksville. Serving an average of 23,300 passengers daily with 424 arrivals and departures, the airport provides nonstop or direct service to 84 cities.
As the fifth-largest city and the third fastest growing county in Tennessee, Clarksville-Montgomery County, TN is experiencing tremendous growth. New schools, a new hospital, and new residential developments are exciting current events in this area. Montgomery County has profited from communication and mechanical technology with a growth in population and industrial expansion. No longer dependent upon an agriculture base, the county has become an important transport, industrial, retail, and professional center with numerous recreational facilities. Today, Clarksville, county seat of Montgomery County, is Tennessee's fifth largest, and third fastest growing city, behind only Nashville and Memphis.
And, even though new developments are taking place, Clarksville-Montgomery County still maintains that closely knitt community feel that is steeped in history and heritage. Visitors and residents alike can experience history and tradition through area attractions, unique architecture, and a variety of festivals and entertainment events that take place year round.
Clarksville has a mild climate with 4 distinct seasons. This great climate and the low cost of living are only a few of the reasons why over 100,000 residents call Clarksville-Montgomery Countyhome. Whether you're planning a visit for an event, building a business, or relocating your home, Clarksville-Montgomery County is an excellent choice!
For more news in and around Clarksville visit any of the following websites:
Tennessee Encyclopedia of History and Culture.
Clarksville has a wide base of recreational venues that satisfy many sports enthusiasts' needs. Heritage Park, one of the state's top soccer sites, has eight fields and is host to several statewide and regional soccer tournaments. The complex is the site for recreational league play, as well as a number of area tournaments.
Clarksville offers 25 parks and five community centers for recreational opportunities. The city also provides seven community pools and several recreational sports leagues.
Special Programs and events are coordinated during the year for all ages. The Summer Program is just one of the programs offered by the department. A six-week program that provides safe and entertaining recreational activities for all ages 6-16, the Summer Program is free and is hosted at 13 sites around the area.
Water sports are abundant in Clarksville and Montgomery County. Whether you enjoy water skiing, jet skiing, fishing or just cruising the river, the area offers a beautiful setting for fun in the sun. The area's Cumberland River was named one of the top catfishing spots in the U.S. by Field & Stream.
One of the key factors in Clarksville's growth is the relationship it has with adjoining Fort Campbell, Kentucky, home of the 101st Airborne Division (Air Assault). The 101st Airborne Division is one of the most powerful and prestigious divisions, having made a name for itself during World War II as the Screaming Eagles in Bastogne, Market Garden, Holland. Today, the highly trained soldiers of the 101st are the world's only Air Assualt Division. The 101st participates in peacekeeping and humanitarian missions at home and abroad.
Over 30,000 soldiers and 55,000 family members call Fort Campbell home. The installation manages the records of some 4,000 civilians, with approximately $2.5 billion per year, making it the largest employer in both Tennessee and Kentucky.
Clarksville is home to Austin Peay State University, one of Tennessee's outstanding public universities. With its beautiful, park-like campus, APSU is adjacent to Clarksville's central business district. Founded in 1927 and named for native son Gov. Austin Peay, APSU is a progressive university, offering high-quality undergraduate, graduate, and pre-professional programs.
APSU offers:
Diverse Degree Programs:Offering 57 majors with more than 91 different areas of concentration and earn a bachelor's, master's or education specialist's degree. New Facilities:A first-class science-education complex, University Center, village-style housing and a new 75,000-square-foot recreation center. Athletics:Teams compete in the Ohio Valley Conference, NCAA Division I and in the Pioneer Football League. The University fields 16 competitive sports, as well as intramurals. Centers of Excellence:Two Accomplished Centers of Excellence (creative arts and biology) and four Chairs of Excellence (creative arts, nursing, and two in business).
Constructed in 2002, the 180,000-square-foot Sundquist Science Complex is one of the South's premier science education facilities. With more than 40 "smart" classrooms, state-of-the art labs and wireless Internet access. It also features a zoological museum, herbarium, interactive TV classroom and the Robert F. Sears Memorial Planetarium . With a price tag in excess of $38 million, it represents the largest capital appropriation ever in Tennessee for a single classroom building.
Introducing a fresh new look for your Profile.
Click the 'Edit Profile' button below to enter 'Edit Mode' and continue the tour.