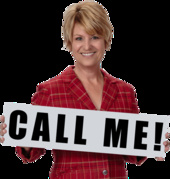 LA License #3866
Real Estate Agent
Paige Walker
Real Estate Guru - Alexandria Pineville LA
Pineville, LA

—

Paige Walker
I love real estate and it shows! Just ask my past clients. With 23+ yrs in real estate I have prevailed as one of the top agents in Central LA! Let me show you why, give me a call or email me!
Get to know Paige Walker
Central Louisiana Homes, Land and Commercial Real Estate
 PaigeWalker.com - Your Real Estate Connection in Central Louisiana
Specialize in Residential properties - Foreclosures - Short Sales - Heir Property - First Time Home Buyers - New Construction - Marketing  and Buyer Representation.
I have been licensed to sell real estate for 25+ years and have sold up to 60 properties per year! I have the knowledge and experience to help no matter what the situation.
             _______________________________________________________________________________________________
ATTENTION FIRST TIME HOME BUYERS: There are many loan programs to help you achieve the dream of home ownership in Central Louisiana. From Grants in surrounding parishes to government programs, there is always one that should work for you. Just give me a call at 318-308-2121 and I can put you in touch with a mortgage broker that can help you fulfill your dream of home ownership!
               _______________________________________________________________________________________________
Buyers in Central Louisiana ( Alexandria, Pineville, Ball, Pollock, Woodworth, Marksville and surrounding areas) - Louisiana is a Buyer Agency state. That means whatever agent you are working with actually represents you (as long as it's not their listing you are interested in). Why wouldn't you want to work with an agent that has experience in negotiating for hundreds of families in your position? An agent that can get you the best terms possible for the home of your dreams. Call Paige Walker at 318-308-2121 and get her working on finding your home today.
               _______________________________________________________________________________________________
UPCOMING EVENTS IN CENTRAL LOUISIANA
Central Louisiana is located right in the middle of Louisiana with the Alexandria/Pineville area as it's base. You can see by the map below exactly where we are in comparison with the larger areas of Baton Rouge and New Orleans. Being in the middle of the State gives us an distinct advantage. We are about two hours from Shreveport, Baton Rouge and Lake Charles and only four hours from Houston and/or Dallas TX and three hours from New Orleans. Just a short car ride away from just about anything you would like to do.
 Alexandria, Pineville and Central Louisiana HOME BUYERS will benefit from the experience Paige Walker has to offer. With 25+ years of experience in the Real Estate industry Paige has the knowledge and experience buyers need to find their next home. She is familiar with all the surrounding Parishes in Louisiana. Paige knows the different subdivisions and has a copy of the restrictions for each if you have any questions about what you can or can not do once you purchase a home. In addition, Paige also is in touch with the market and knows about new subdivisions and developments that are coming in.
Clerks of Court  Allen Parish - Gerald Harrington 337-639-4351 Avoyelles Parish -  Samuel Couvillion 318-253-7523 Catahoula Parish - Janet Payne 318-744-5497 Concordia Parish - Clyde Webber 318-336-4204 Evangeline Parish -  Walter Lee 337-363-5671 Grant Parish -  J Elray Lemoine 318-627-3246 LaSalle Parish -  Steve Crooks 318-992-2158 Natchitoches Parish - Louie Bernard 318-352-8152 Rapides Parish -  Carolyn Ryland 318-473-8153 Vernon Parish -  Willie Deon Jr 337-238-1384 Winn Parish - Don Kelley 318-628-3515   Colleges & Universities Louisiana College 318-487-7011 Louisiana State University at Alexandria 318-445-3672 Northwestern State University 318-357-6361 Learning Center for Rapides Parish 318-484-2184   Economic Development Departments Central Louisiana Chamber of Commerce 318-442-6671 State Financial Institutions Office 318-487-5023 Central Louisiana Electric Company 318-484-7400 Greater Alexandria Economic Development Authority 318-880-0407 Alexandria Regional Port Authority 318-473-1848 Cenla Advantage Partnership 318-767-3001   Hospitals Allen Parish Hospital - Kinder 337-738-2527 Avoyelles Hospital - Marksville 318-253-8611 Bunkie General Hospital 318-346-6681 CHRISTUS St Frances Cabrini 318-487-1122 Huey P Long - Pineville 318-448-0811 Huey P Long - England AirPark 318-483-7000 LaSalle General Hospital 318-992-9200 Natchitoches Regional Medical Center 318-214-4200 Oakdale Community Hospital 318-335-3700 Rapides Regional Medical Center 318-473-3000 US Veterans Medical Center 318-473-0010 Ville Platte Medical Center 337-363-5684 Winn Parish Medical Center 318-648-3000   Department of Labor Allen Parish Job Center 318-335-4335 Natchitoches Parish Field Audit 318-357-3149 Natchitoches Parish Career Solutions 318-357-3145 Rapides Parish Career Solutions 318-487-5532 Vernon Parish Career Solutions 337-238-6436 All Claims 866-783-5567   Louisiana Technical Colleges Alexandria Campus 318-487-5439 Avoyelles Campus 318-876-2401 Ferriday Campus 318-757-6501 Jennings Campus 337-824-4811 Leesville Campus 337-537-3135 Natchitoches Campus 318-357-3162 Oakdale Campus 318-335-3944 Winnfield Campus 318-628-4342   Mayors Alexandria - Jacques Roy 318-449-5000 Ball - Roy Hebron 318-640-9605 Boyce -  Donald Welch 318-793-2175 Bunkie - Gerard Moreau 318-346-7663 Campti - Judy Daniels 318-476-3326 Cheneyville - Coral Johnson  318-279-2155 Colfax - Gerald Hamilton 318-627-3711 Dry Prong - Paul Pace 318-899-5341 Ferriday - Glen McGlothin 318-757-3411 Forest Hill - Marcia Young 318-748-6300 Glenmora - Joseph Rivers 318-748-4885 Harrisonburg - Michael Tubre 318-744-5411 Jena - Murphy McMillin 318-992-2148 Jonesville - Hiram Evans 318-339-8596 Kinder - Estes Ledoux Jr. 337-738-2620 Lecompte - Gregory Clark 318-776-5488 Leesville - Betty Westerchill 337-239-2444 Mamou - Wilda Chamberlain 337-468-3272 Marksville - Dr Richard R Michel 318-253-9500 McNary - Don Parker 318-748-8264 Natchitoches - Wayne McCullen 318-352-2772 Oakdale - Bobby Abrusley 318-335-1111 Oberlin - Philip Beard 337-639-4333 Pineville - Clarence Fields 318-445-7163 Pollock - Jerome Scott 318-765-3796    Rosepine - Bruce Ward 337-463-8908 Simmesport - James Fontenot 318-941-2493   Vidalia - Hyram Copeland 318-336-5206 Ville Platte - Billy Jeanmard 337-363-2939 Winnfield - Deano Thornton 318-628-3939 Woodworth - David Butler II 318-442-1198   Department of Motor Vehicles Allen Parish (Oakdale) 318-335-2578 Avoyelles Parish (Bunkie) 318-346-7798 Avoyelles Parish (Marksville) 318-253-9773 Catahoula Parish (Harrisonburg) 318-339-6102 Concordia Parish (Vidalia) 318-336-7137 LaSalle Parish (Jena) 318-992-4791 Natchitoches Parish (Natchitoches) 318-357-3166 Rapides Parish (Alexandria) 318-487-5933 Rapides Parish (Pineville) 318-487-5949 Vernon Parish (Leesville) 337-238-6434 Winn Parish (Winnfield) 318-628-6059   Police Jury Presidents Allen Parish - R.E. Weatherford  337-639-4328 Avoyelles Parish - Mickey Romano 318-253-9208 Catahoula Parish - Libby Ford 318-744-5435 Concordia Parish - Melvin Ferrington 318-336-5953 Evangeline Parish -  Bob Manuel 337-363-5651 Grant Parish - Donnie Brown 318-627-3157 LaSalle Parish - Wayne Richardson 318-992-2101 Natchitoches Parish - David Dollar 318-352-2714 Rapides Parish -  Theodore Fontaine 318-473-6660 Vernon Parish -  James Tuck 337-239-2311 Winn Parish - Jack McFarland 318-628-5824   Department of Education School Boards Allen Parish 337-639-4311 Avoyelles Parish 318-346-2994 Catahoula Parish 318-744-5273 Concordia Parish 318-336-4226 Evangeline Parish 337-363-5668 Grant Parish 318-627-3274 LaSalle Parish 318-992-0271 Louisiana Special Education Center 318-487-5484 Natchitoches Parish  318-352-2358 Rapides Parish 318-487-0888 Vernon Parish 337-239-3401 Winn Parish 318-628-6936   Sheriffs Allen Parish - Harold Brady 337-639-4353 Avoyelles Parish - Doug Anderson 318-253-8085 Catahoula Parish - James Kelly 318-744-5411 Concordia Parish - Randy Maxwell 318-336-5232 Evangeline Parish -  Eddie Soileau 337-363-2161 Grant Parish - Baxter Welch 318-627-3261 LaSalle Parish -  Scott Franklin 318-992-2151 Natchitoches Parish -  Victor Jones Jr 318-352-6432 Rapides Parish -  Chuck Wagner 318-473-6704 Vernon Parish -  Sam Craft 337-238-1311 Winn Parish - A.D. "Bodie" Little 318-628-4611   State Representatives/Senators Contact While In Session 225-342-6945 District 22 - Rep Billy Chandler 318-899-1193 District 23 - Rep Rick Nowlin 318-357-7048 District 25 - Rep Chris Roy 318-767-6095 District 26 - Rep Herbert Dixon 318-487-5661 District 27 - Rep Chris Hazel 318-484-2210 District 28 - Rep Robert Johnson 318-253-8891 District 28 - Sen Eric LaFleur 337-363-5019 District 29 - Sen Joe McPherson 318-484-2211 District 30 - Rep James Armes 337-238-7004 District 31 - Sen Gerald Long 318-628-5799 District 32 - Rep Dorothy Hill 800-259-2118 District 32 - Sen Neil Riser 318-649-0977 District 34 - Rep AB Franklin 337-491-2320 District 34 - Sen Francis Thompson 318-878-9408 District 38 - Rep Bernard LeBas 337-363-0152   Tax Assessors Allen Parish - Richard Earl 337-639-4391 Avoyelles Parish -  Emeric Dupuy 318-253-4507 Catahoula Parish - Carmon Walker 318-744-5291 Concordia Parish - Monelle Moseley 318-336-5122 Evangeline Parish -  Dirk Deville 337-363-4310 Grant Parish - Walker Wright 318-627-5471 LaSalle Parish - Aron Johnson 318-992-8256 Natchitoches Parish - Rick Hargis 318-352-2377 Rapides Parish - Ralph Gill 318-448-8511 Vernon Parish - James A Johnson 337-239-2167 Winn Parish - Lawrence Desadier 318-628-3267
          _______________________________________________________________________________________________
Looking for a Home Inspector in Central Louisiana?
I can help put you in touch with the best. There is no one who believes more in getting a home inspection than me. I believe real estate is the largest investment you can obtain, why wouldn't you spend $300 to find out about what it is that you are purchasing? An inspection isn't just to find out what is wrong with the property, it is also a time for accumulating information; make and model numbers of units as well as the age, things to take care of long term, can you do an addition in the attic?, what happens if you let the landscaping go over the slab and weep holes around the outside? Paige can help you find an inspector who will answer your questions while giving the house a thorough inspection at the same time. Remember, all inspectors in the State of Louisiana must be licensed and accredited and have to complete ongoing education to remain active. They are professionals.
               _______________________________________________________________________________________________
How is the real estate market in Central Louisiana holding up? Our real estate market for Central Louisiana is fairing very well. We did see a dip during 2013, but now much when compared to the rest of the nation. Over the past 10 years we have had about 5% appreciation over all. A great investment return if you ask me.
Want to know what your home would sell for, just give me a call at 318-308-2121 and we can arrange a time for me to go and look at your home and compile a price opinion of it's value today.
                 _______________________________________________________________________________________________
WHAT PRICE RANGE SHOULD YOU BE LOOKING IN?  So you think you are ready to take the leap into home ownership, but, don't know where to begin. The first step is always to get pre-approved for a mortgage. This will let you know what you are qualified for in terms of price. You may not want to spend as much as you are qualified to spend. Just let us know how much you feel comfortable with per month and we can back into an amount for you based on this information. Just call Paige Walker at 318-308-2121 for more information on getting you pre-approved for a mortgage. Interest rates are low right now - it's a great time to buy!
                 _______________________________________________________________________________________________
FORECLOSURES AND HUD PROPERTIES - WANT A LIST? If you are looking for a HUD foreclosure no need to pay a service to locate them. You can find them on the government site by clicking here:  http://portal.hud.gov/portal/page/portal/HUD/topics/hud_homes Just click on the State your looking in and then you can choose your city of interest to look at the properties. If your city is not listed that means there is currently no HUD homes available in that city. With HUD they have a period where you must be an owner occupant to bid after that period is over if no one gets the house then it is open on a daily basis for all bidders - investors alike. In order to make a bid you must go thru a approved HUD agent. To make a bid on a HUD home in the State of Louisiana call Paige Walker at 318-448-4400 or 318-308-2121 she is an approved HUD agent and can help you get that home you want.
               _______________________________________________________________________________________________
 SHORT SALES IN LOUISIANA - Not every agent is qualified to work thru a short sale. It takes knowledge and experience on the Short Sale process to make it to the closing table. A short sale is when an individual can get the mortgage holder (bank or mortgage company) to accept less than what is owed on a property as payment in full. This can be accomplished - not all the time, some lenders are just too stubborn to accept anything less than full payoff. However, it can be a win win for all parties when it happens. Make sure your agent has the experience needed to make it happen for you. If you are wanting to see if you can get a short sale contact Paige Walker at 318-308-2121 and go over the details with her. Even if your not in Louisiana she can give you some good advice on the Short Sale process.
                _______________________________________________________________________________________________
WE KNOW OUR WAY AROUND IN CENTRAL LOUISIANA -  If you are going to be moving to Central Louisiana and want an agent to show you around the area before deciding what town you want to purchase in, just give me a call at 318-308-2121. We can first send you information on our area and what Central Louisiana has to offer for you and your family. Then when you hit town for your house hunting trip, we can arrange to show you around to help you get familiar with what we have to offer. Central Louisiana has a lot to offer and we want to show you the highlights while you are here!
               _______________________________________________________________________________________________
NEW HOME WARRANTY ACT FOR THE STATE OF LOUISIANA - If you are purchasing a new construction in the State of Louisiana - make sure you have the builder sign a New Home Warranty Act before or at the closing. This will give you some peace of mind for the first five years of the home. Of course the 'warranty' is only good as long as the builder is still around and living. It basically states that the builder will stand behind any structural issues with the home for the first five years. They are also liable within that period in different increments for other items with the house. It states that they are liable for any defects for the first year period. All of this doesn't matter if you don't have them sign the document and acknowledge it with your signature. Paige Walker is a certified New Construction Specialist, she is fully aware of everything that has to do with a new construction property. If you are thinking of building make sure you speak with an expert before committing yourself with a builder you don't know. Once again this is probably the largest investment of your life - do your homework and by all means all have a Realtor on your side that is Certified in New Construction. You can contact Paige Walker  318-308-2121 with any questions you may have about new construction homes.
                    ____________________________________________________________________________________________________
LOUISIANA LAW ON WAIVER OF REDHIBITION (AS IS OR WITH WARRANTY) - WHAT DOES IT ALL MEAN?In Louisiana you can purchase a property with warranty and redhibition, this is the default unless otherwise stipulated in the Cash Sale. What does this mean to you? If you should purchase a home and then realize that there is a defect with the property, whether the previous owner was aware or not, and it renders the property useless or impacts it to the point you would not have purchased it or if you would have you wouldn't have paid as much..you have the right to go back to the previous owner for Redhibition. If you succeed they would have to buy the home back from you. The catch is you must be able to prove the defect existed when the previous owner had it.
When you purchase"AS IS WITH WAIVER OF REDHIBITION" you are giving up any rights you would have to go back against the previous owner in the event you find a defect after purchasing.  The only exception would be is if you can prove that there was fraud involved. They knew about a defect and did not disclose it to you. Then you may have the right to Redhibition.
Be careful what you buy, Get an inspection by a qualified inspector. That is your best insurance.
               _______________________________________________________________________________________________
Paige Walker's Blog Posts
Lending / Financial
–

almost 7 years ago
Lending / Financial
–

almost 7 years ago
ActiveRain Community
–

almost 8 years ago
Real Estate General Information
–

over 8 years ago
Paige Walker - Your Louisiana Real Estate Connection
In your hometown Pineville Louisiana with Paige Walker Louisiana Lagniappe Realty LLC
Certifications
I have been in real estate for 23+ years now. I obtained my license and got my feet wet in Baton Rouge before moving to Central Louisiana. During this time I have received numerous awards including the Centurion Award for many years. To receive this award you need to sell 60+ homes in a year! Now that's a bunch of sold properties. The award I am most proud of is the Quality Service Award which is given to those individuals whose clients have voted for them based on their service.
I have thousands of hours of continuing education under my belt, in addition to many designations, to most it is just a bunch of letters, however, it does show a continuous pursuit to improve myself each year. As the saying goes if your not moving forward your moving back. And most would say they don't want to go back. I definitely want to move forward and grow in knowledge and wisdom to not only be the best agent I can be but the best person God wants me to be.
In addition to my designations, I also have a specialty in new construction. I completed the difficult training program called The Certified New Home Specialist. To the best of my knowledge, I am the only agent in Central LA that has completed the course and received the designation. It has proven to be a great benefit for me and my clients!
My Hobbies
As much as I love it, there is life outside of real estate. I love spending time with my family, especially on vacation! Our family favorite is to take cruises. We greatly enjoy one of the newest ships that Royal Caribbean has - Liberty of the Seas out of Miami! When they wrapped up the inaugural year in May, 2008 we were lucky enough to be on the ship 3 times in the first year! This year we took our dream cruise to ALASKA - in search for Whales and we weren't dissapointed...It was Awesome! Look thru my Blog for great pics from our trip!
We try to always be together on Thanksgiving on vacation, whether on a cruise or some other location! It is a great bonding time for us.
We also enjoy going on bike trips across the beautiful U.S.! There is just something about the open road with the wind blowing and blue skies above. We have seen some of the most spectacular scenery while on bike trips. Places we probably would never have seen if we were in a car. It is fantastic!
Another type of vacation I enjoy greatly is to fly in to one location, rent a vehicle (prefer a convertible) and drive across a few states then fly out somewhere else. I use the book "1000 places to see before you die" as my guide. We have stayed at some great B&B's and historical hotels using this book as a reference. Never disappointed! If it was not for that book I would never have seen the most beautiful night sky in Utah. There were a Billion stars in the sky and they were so bright it looked like you could reach up and touch them!!
Yea I am passionate about travelling, I put that same passion in my real estate career as well.
Awards
Rotarian of the Year
REALTOR® of the Year
Centurion Award Winner for 6 years
Skills
Communications, Negotiations, Marketing, Technology, Time Management, Interior Design, Remdeling, Contract Law
Testimonials for Paige Walker
Paige was fantastic! This was my first purchase and she took care of me. She fought for me and we got a great value for the property. Her knowledge and experience we priceless. I can honestly say, that if she had not been my agent; I would not own a home today.

Henrietta Williams

01/15/2014

Paige Walker was an excellent realtor. She sought us out and worked with us throughout the process. She did everything she could to ensure that the sell went as smoothly as possible. I felt a since of relief working with her. She was truly great!

First thank you Paige, the time was trying on us the family and you were very professional and helped us look ahead. Your expertise help guide us in pricing correctly, negotiations and help with the closing. I would recommend you to anyone who need help with selling and purchasing property. Please ask you clients to call me. You are a great asset.

Dick and Roquessa

08/16/2013

When we decided to have our first house, we did not have any idea where to start. Paige was there and guide us in every step of the process. We were so at ease with her and from the start we're so confident that she would do everything for our best interest. I highly recommend her. She is indeed an exceptional realtor.

Paige is wonderful! From our initial phone call to closing, Paige has gone above and beyond what any realtor is expected to do. Her professionalism, advice, hard work and positive attitude getting our home ready to sell was awesome. Paige knows her business and everything with our sale went just as Paige said it would. We highly recommend her for anyone looking for a realtor to buy/sell a home.

Paige will always be my realtor,she was always there if I needed anything. She is professional and can tell she loves her job. How many realtors babysit your dog. Well she did, I have never had a realtor to go over and beyond as she did. Last week when we closed on our new house I was sad because I felt like it was over and I would not here from her , but guess what she called to see how we were and helping me with projects. Every realtor should take some lessons from Paige ! She number 1 in my eyes.

Jared and Amanda Thornton

08/09/2013

Paige is an exceptional agent. She loves what she does and it shows. She is extremely dependable and accommodating but most of all, she's is honest and kind. Those qualities are hard to find today. If your looking for an agent that will give 200% to help you find your new home, you can't go wrong with Paige!!!!!!!!!!!

Gloria Rabalais

07/31/2013

I highly recommend Paige Walker. She is very prompt in helping me with whatever I needed. She is very qualified to handle every aspect of the Real Estate market. Paige is always conscientious and will guide you in making decisions that is best for you. I consider her the top Realtor in Louisiana.

You simply cannot choose a better agent than Paige Walker!
Introducing a fresh new look for your Profile.
Click the 'Edit Profile' button below to enter 'Edit Mode' and continue the tour.