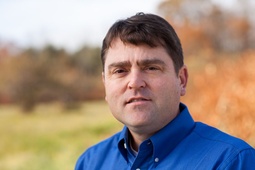 Managing Real Estate Broker
Bill Trask
Standish, ME

—

The Maine Real Estate Network
Proudly serving the needs of buyers and sellers in all of Southern Maine, Greater Portland and the Lakes Region. High service and low pressure are my trademarks. I look forward to working with you.
Get to know Bill Trask
I was born in Lewiston, Maine in 1970 and raised in Hollis, Maine. I graduated from Bonny Eagle High School as a Junior in 1987 and joined the US Army. I served for 6 years at Fort Riley, Kansas and Pusan, South Korea and attained the rank of Staff Sergeant in only 6 years. I left the Army in 1993, returned to Maine, and after bouncing around for a year or so trying to find a new career, was introduced to real estate sales by my parents and got my Sales Agent license in 1995. I joined Century 21 First Choice Realty in Standish where I worked for 2 years. In 1998, my father & I opened our own real estate office in Standish. We joined the Mark Stimson Real Estate Network, at the time the largest and most successful real estate organization in Maine, and opened Mark Stimson Friends & Neighbors Realty in the Colonial Marketplace in March of 1998. We had a very successful first year in business and many more agents than we had expected joined our new company. To our surprise, our relationship with Mark Stimson Realtors lasted only 1 year as they merged with a much larger but like-minded competitor The DeWolfe Companies of New England. Our 4 years as DeWolfe Friends & Neighbors Realty were very successful as they shared the same high ethical and business standards of Mark Stimson Realtors and being part of a largest state and regional company provided many benefits to our company and our agents. We were outgrowing our office in Standish so when the opportunity came about to expand and open an office in Hollis we jumped at it. We had a full contingent of agents to start with and recruited many more due to our new, very highly visible location at the intersection of Rt. 202 & 35. We later opened a branch office in Sanford/Springvale and made a run at that market.
Our very successful relationship with DeWolfe lasted for 4 years before they merged with Coldwell Banker. This merger resulted in many tough decisions for our company as we would be looking at converting 3 offices to the Coldwell Banker brand. It was also at this time that I was personally getting burnt out of running between all 3 offices every day. I am a very hands on person and was even more of a control-freak then than I am now, and a perfect day to me was spending 1/3 of each day in each office and getting to see each of my agents every day. Well, that was a worthy goal but one that was tough to accomplish. The other thing that happened on the way to 3 brick and mortar offices was the Internet. More and more of customers every day were coming either directly via our website or finding listings online and calling us on the telephone versus walking into the office. The Internet has changed the real estate business dramatically since I first got my license and our company has benefited greatly from being an early adopter of not only having a website but all of our agents getting their own websites, laptops, web and email enabled phones, etc. So, I made the very tough decision to close our Sanford/Springvale branch and consolidate to two offices, and then later to one when we able to expand our Standish office from 1200 to over 2500 sq. ft. Each and every day more and more business has continued to flow from the Internet and we decided that having one office and diverting the cost savings from all that overhead into to our online efforts as well as providing more office staff to serve our agents and more services to them was the best way to move forward. That has proven over and over again to have been a wise choice.
Then the recession hit! As sales and prices plummeted we had to get small and economize to survive as did most real agents and companies. In the midst of the down market, I was afforded the opportunity to sell my office to Better Homes & Gardens The Masiello Group which did. After a short stint at trying to just be a manager I missed the opportunity to work directly with buyers and sellers so I decided to just be a broker. The last 4 years have seen some of my most successful years in real estate despite the recession. While sales prices are down my units have gone up and that has helped make up the difference.
At the time of this writing, my 4 year non-compete agreement from selling my company has ended and I have decided to open my own real estate office again in Standish as that office location was unfortunatley a victim of the recession and closed 3 years ago about a year after I sold my previous company. With the market starting to turn around the timing seemed right. I am looking forward to a successful 2013 and wish all my friends and clients the same.
Certifications
I specialize in the sale of existing residential homes in all of Southern Maine, Greater Portland and the Lakes region. I like working with buyers and sellers equally as much and I am well qualified to serve both. The thrill of working with first time buyers, regardless of the price range, is especially rewarding. Helping someone realize the dream of homeownership is a feeling like no other. Working with sellers is a somewhat similar but different feeling. Most sellers are selling because they have to due to a birth or marriage or job change, etc. or they want to make a significant change in their quality of life either buy upsizing or downsizing etc. often within a very specific time frame. Helping sellers achieve their life goals especially within a very specific time frame fuels the competitive spirit that exists within most highly successful real estate agents.
I was very fortunate to have the value of advanced training and certification in real estate sales engrained in me from a very early point in my career. I am not even really sure how it happened but I likened it to the military where you are given a very specific outline for what you must do to advance to the next rank. Being a Type A personality, I love having lists and goals and if you tell me if I do certain things that certain other good things will follow I will do whatever I need to do. I found out early in my career that the best agents had the best and most advanced training, were able to help the most people, and therefore make the most money. The money has never been the goal otherwise you would fail as your customers would easily see that is all you are about. If you make it all about them, and do an excellent job, the rewards will likely follow.
I have attained the GRI - Graduate of the Realtor Institute (advanced training on serving buyers and sellers in real estate sales) designation to serve my customers to the best of my ability:
Introducing a fresh new look for your Profile.
Click the 'Edit Profile' button below to enter 'Edit Mode' and continue the tour.