Clearwater Montana Properties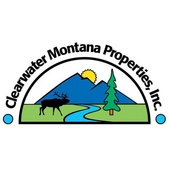 Services for Real Estate Pros
Clearwater Montana Properties
Seeley Lake, MT

—

Clearwater Montana Properties, Inc.
Specializing in recreational Montana Real Estate, including Montana lakefront property, ranches, homes, log cabins, land, acreage, riverfront, waterfront, investment and commercial opportunities.
Get to know Clearwater Montana Properties
¨ 22 Professional Office/Agent Locations: Bigfork, Butte, Cascade, Choteau, Deer Lodge, Ennis, Fort Benton, Georgetown Lake, Helena, Kalispell, Lewistown, Livingston, Miles City, Missoula International Airport, Noxon/Bull River, Philipsburg, Seeley Lake, Swan Valley, Townsend, Troy, Whitefish and White Sulphur Springs
¨ 45 Full Time Brokers/Agents dedicated to their professions
¨ Experienced and innovative management provides marketing, training and negotiating support
¨ Extensive Office Support Staff -
Office coverage and telephone management Website management Client contact and relations Transaction management Cutting edge advertising design and coordination
¨ We are the Montana participant with Cabela's Trophy Properties which offers additional services such as land GPS mapping and pond management
¨ Cabela's Trophy Properties publishes and distributes hundreds of thousands publications promoting Cabela's Trophy Properties such as the Cabela's Fly Fishing catalog, the Cabela's Table Top catalog and many other direct mail pieces
¨ High traffic website linked to Cabela's main website
¨ Memberships in 9 prime Montana Multiple Listing Services -
Missoula • Flathead • Bozeman • Helena • Great Falls • Billings • Lincoln • Butte • Lewistown
¨ Worldwide Real Estate Referral Network
¨ Extensive Worldwide Advertising Program
¨ We market your listing to 350 Cabela's Trophy Properties Agents Worldwide
¨ Company Real Estate Guide distribution in 50 Town Pump locations across Montana as well as numerous other partner business locations including Murdoch's and Quality Supply
¨ Listings are placed on our company websites and Realtor.com, and qualified properties on www.CabelasTrophyProperties.com
¨ Clearwater Montana Properties' agents attend trade shows such as The Denver Fly Fishing Show & The Outdoor Adventure & Travel Show in Calgary to promote all Clearwater Montana Properties' listings.
¨ Three web cams (Seeley-Swan Valley, Bigfork & Georgetown Lake) and a blog on our website to draw additional visitors
¨ Marketing Service Reports are provided to Sellers on a quarterly basis giving feedback from property showings, advertising and other services performed
¨ Extensive computer generated mass marketing to our database of over 10,000 qualified buyers
¨ CEO Database-Direct Marketing to 200 top CEO's nationwide
¨ Professional flyers promoting property with high resolution photography
¨ Members of local RealtorR Associations as well as the National Association of RealtorsR
¨ Virtual Tours of select listed properties are created and placed on the website
¨ Extensive Google search engine optimization and pay per click campaign that drives prospects to our websites
¨ Our Brokers/Agents participate in and may have completed non-required/additional education to increase productivity and learn cutting edge market trends
¨ We promote recreational property listings on Landwatch.com, LandsOfAmerica.com, and Trulia.com
¨ We welcome you to join our page on Facebook
¨ Selected agents are members of LinkedIn.com which provides networking for buyer prospects
¨ We have memberships in the Bigfork, Philipsburg, Seeley Lake and White Sulphur Springs Chambers of Commerce
¨ Our owners and agents are involved in many civic organizations in their communities
¨ Annually, we contribute a portion of all professional fees earned to civic organizations in the community in which it was earned
¨ Clearwater Montana Vacations is our statewide vacation rental program that provides buyers and sellers with effective property management
¨ Clearwater Wildland Services, which is partnered with Cabela's Trophy Properties Habitat Services, provides buyers and sellers a land management program that includes wildlife, forest, weed, wetland and ranch management, property development planning, fire hazard reduction and conservation easement documentation
¨ We diligently track our buyer statistics so we know where our buyers are coming from and therefore we are able to determine where to focus our best possible marketing efforts
¨ We are a dedicated team of professionals working hard for you
Certifications
Our website has an average of 10,000 visits per month. Each month we perform an analysis to track how it is being used and how we can capitalize on this to provide a holistic marketing strategy for our clients.
As participants with Cabela's Trophy Properties, the Cabela's Trophy Properties site is linked to Cabela's main website, the 25th most visited site in the world. Listings are placed on our company websites and Realtor.com, and qualified properties on www.CabelasTrophyProperties.com.
When you list with Clearwater Montana Properties, your property will be listed on the Multiple Listing Service in Missoula, Northwest (Flathead), Helena, Great Falls, Billings, Lincoln County, Butte, Lewistown, or Gallatin (Bozeman) as well as our own website with details, photographs and map showing the location of the property.
Our website features many ways to search listings, view virtual tours, research area information, subscription to our guide, 3 webcams (Seeley-Swan Valley, Bigfork and Georgetown Lake) and a blog to draw additional visitors.
At Clearwater Montana Properties, we promote additional exposure for your property by creating e-mail blasts to the top brokers worldwide as well as listing on LandsOfAmerica.com, LandWatch.com and CraigsList.org. Additionally, we have a tight network of the 350 Cabela's Trophy Properties Brokers worldwide sharing many of our clients to fulfill their real estate needs in other areas.
Introducing a fresh new look for your Profile.
Click the 'Edit Profile' button below to enter 'Edit Mode' and continue the tour.