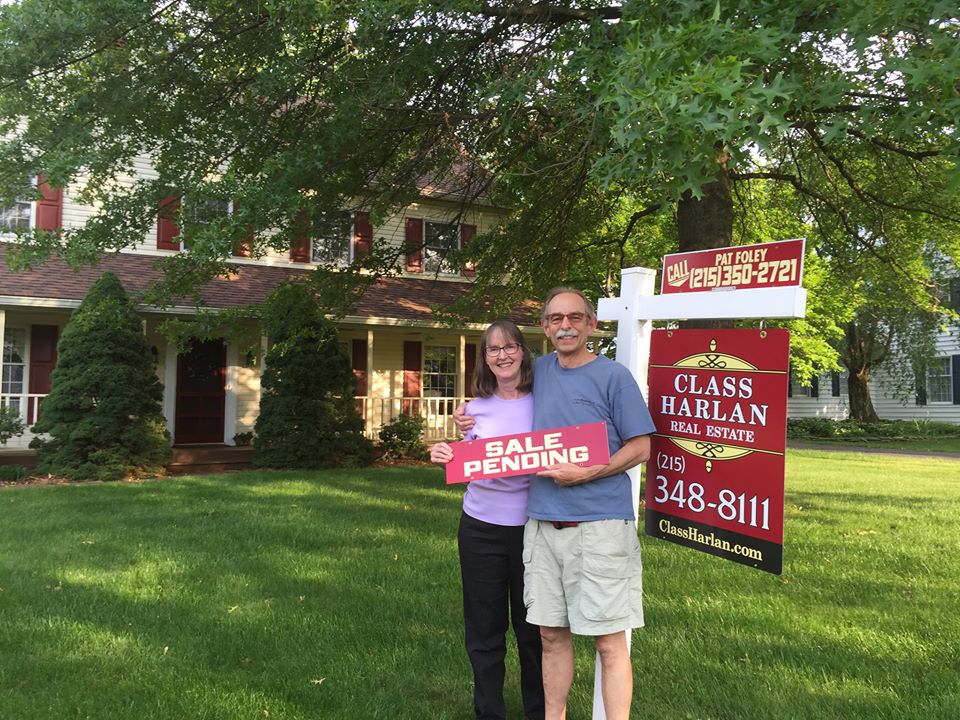 Get to Know Patricia Lamb-Foley
Pat has been a successful Full-Time Pennsylvania licensed Realtor since 1984. She began her career under the tutelage of one of the best Broker/Owners of a still very well-respected Real Estate firm located in Bucks County Pennsylvania. "I was lucky to have had the opportunity to begin my real estate career working for one of the most successful, ethical, honest, hard-working Realtor/Broker's in this business. He was a wonderful mentor with the highest of standards for client care that I've modeled throughout my career!"
Pat has worked with First-time & Move up Buyers, Down Sizing & Relocating Sellers, Residential and Commercial Real Estate Investors and is particularly sensitive to the emotions we all experience when making decisions about one of the biggest investments of our lifetime. "So much has changed over the years in the way we do business with the evolution of technology but one thing that will never change is my commitment to my client! There simply is no substitute for good, old-fashioned customer service!" Pat has counseled homeowners who've fallen behind on mortgage payments and assisted them through the Short Sale process when a Loan Modification was simply not an option. You'll be hard pressed to find another Realtor with Pat's thorough knowledge and understanding of the contracts we use when buying/selling Real Estate.
"Whether you're a Buyer, a Seller, or both; consider working with a Realtor who is a seasoned professional available to answer any and all of your questions, listen to your fears, concerns, hopes and dreams and help you sort through the myriad of emotions that often come up when making one of the biggest decisions of your life.  I'd love for you to interview me. One thing I know for sure after all of these years is everyone chooses their Realtor based not just on that Realtor's experience, track record, ability etc., but based on whether or not the client feels a level of trust, comfort and camaraderie with the Realtor."
Pat has been a Bucks County resident for more than 40 years and has called Doylestown home since 2001. She's extremely handy and enjoys remodeling and redecorating her home. A lover of animals and nature, her hideaway on 7 acres where Red Fox, Deer, Geese, Groundhog, Hawk and more critters live is truly her "Happy Place" especially when her daughter, son-in-law and 3 toddler grand kids are visiting!
Pat is a "techie" who keeps our Class-Harlan website up to date.  She designed, created and regularly updates our Class-Harlan Listing Slideshow presentation that runs 24/7/365 on two 40" monitors at Class-Harlan. Pat's graphic design skills come in handy when she is asked to design various promotional flyers, invitations and announcements for Class-Harlan as needed and she recently designed the Class-Harlan Real Estate company brochure of which she is very proud.
Awards
Pat has received numerous awards and recognition over the course of her real estate career and is particularly proud of the fact that she has never had a sale that ultimately did not go to closing or a complaint of any kind lodged against her. 
Skills
Pat has been a Top-Producing Realtor throughout her entire Real Estate Career.  She's particularly adept and knowledgeable in contracts and negotiations.  Pat uses social media heavily in marketing her listings for sale and is an excellent "Out of the Box" thinker, targeting her marketing efforts in such a way to reach the maximum audience for any particular property.  She especially enjoys working with first time home buyers, educating them throughout the process of what to expect along the way.  She's honest, ethical, friendly, smart and extremely commuicative.  She's available to her clients 24/7 returning calls, text and emails typically within minutes upon receipt.  
T.J. Tantillo
08/10/2015
Pat was absolutely terrific. She did the research and spent a lot of time with us developing the right price, timing and staging, and even took professional quality photographs herself. She was available and responsive 24/7, and brought us two full price offers within three days of listing. After that she handled all of the buyers inspection issues, identified and coordinated contractors and negotiated fair agreements with both them and the buyer. And, she was a delight to work with. Highly recommend. T.J. Tantillo
Jodi Boylan
07/30/2015
Words cannot describe how lucky my husband and I were to meet Pat at an Open House one Sunday a couple of years ago. We both felt an instant connection to her and appreciated Pat's ability to genuinely listen to our needs. She helped us both sell our house and purchase a new one and we always felt she had our best interests in mind. There were a lot of unexpected twists and turns but Pat's expertise, dedication and honesty guided us through the entire process. She is thoughtful and caring and we feel as if she is not only our Realtor but also our friend. We are forever grateful for all of the time and attention she gave us during such a stressful time.
M. Richey
05/20/2015
The highest form of endorsement is a referral. Pat helped us purchase our home. We have referred her to several of our friends. She has helped two buy their homes and another one sell their property. Pat is patient, professional and really determined to find the right fit for each of her clients.
R. Kastawa
05/19/2015
We met Pat at an open house that we just happened upon. You should ABSOLUTELY do business with Pat as we feel it was fate to meet her at that open house. Pat brings all of her expertise while keeping you as the absolute focus, she is patient and quickly learns what fits you and never is pushy. She is absolutely fun to work with, so seek her out if you want the best experience as well as the best home to meet your needs!!!
Keith McC.
05/08/2015
Pat is an INCREDIBLE agent! As first time home buyers, she was able to educate us on certain pitfalls to be wary of, all the while demonstrating extreme patience, as we got to learn the ropes of the Real Estate game. After an EXHAUSTING multi-month search, (elongated only by our Property Virgin Picky-ness) she found us the perfect house, with EV-ER-Y-THING we we were seeking, on our loooong wish list. I would HIGHLY recommend Pat's services to anyone looking to buy a new home, and ESPECIALLY to first time buyers. She's the best!
Jay Eiser
03/14/2015
Pat was extremely proactive and aggressive in selling my home. She did all the little things needed to complete the sale and get to settlement. She recommended services needed to complete the sale and contractors needed to complete some work.
format_quote
Buying, Selling, Renting or need a great referral agent in Bucks County, Doylestown Borough or Doylestown Township or surrounding area? Put Pat's 32+ years of experience to work for you.