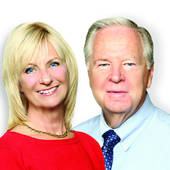 By Al & Peggy Cunningham, Brokers, Our Family Wants To Help Your Family!
(RE/MAX West Realty Inc., Brokerage)
7 Dowling Crescent, Brampton, Ontario, SOLD!  Get On The List!   The house sales in Brampton are sizzling, especially at 7 Dowling Crescent it's causing the snow to melt.  One Buyer was quick and beat the storm and claimed this one.  Others were calling but as the saying goes "the early bird gets the worm". Don't cry... Al and Peggy are here to help you, but you have to call and tell us exactly what you are looking for.  You see, Al and Peggy have been selling homes in Brampton for many years now and people know they can trust them with the sale of their home.  You need to be on Al and Peggy's list.  When they list the next beauty like 7 Dowling Crescent you will be the first ones they call. Be an early bird, and get the home of your DREAMS!  Want to see what you missed by not being on ...