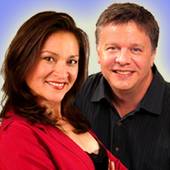 Services for Real Estate Pros
Keith & Shannon French
Baltimore's Best for Rent To Own Homes
Catonsville, MD

—

www.KeithandShannonFrench.com
~Save Your Commission!~ We're getting Property Owners *FULL* asking price for their homes. So many deals have been made and/or salvaged via Rent-To-Own! Learn how at www.LinkOptions.net
Get to know Keith & Shannon French
Link Options is an exciting real estate strategy we developed that evolved from years of experience with numerous other investing strategies. It was created and perfected to create MASSIVE INCOME by utilizing ALL THOSE Real Estate leads with little or no equity, and gives the millions of Americans who are being told that they are "Un-Lendable" by the banks, a chance to become homeowners!
We've experienced such tremendous and immediate success closing Link Options since 2009 that investors nationwide have been begging us to teach them our strategy and business model. In almost every area of the United States, the old investing strategies just aren't working like they used to. The investors who've managed not to bite the dust all together are working three times as hard to make half the profit they did once before. Don't feel bad if you've been investing and your profits have disappeared. You're not alone!
Unfortunately, it's impossible to meet with everyone individually to teach them the business. But because of the overwhelming amount of inquiries and our desire to help, we finally decided to take EVERYTHING WE DO ON A DAY-TO-DAY BASIS, and put it on Video, Slide Shows, Audio Recordings, and Down-loadable Documents for you to use in your own market. After months of recording, documenting, compiling & editing we have now what so many people have been begging for…a resource that is truly like being a hands-on apprentice for our business! Take it, Use it, Profit with it!
Read More at www.LinkOptions.net
******************************************************************************
Check out our website www.BuyBaltimoreProperties.com
BuyBaltimoreProperties.com is a private for-profit Real Estate Investing Company operating in Baltimore, Maryland and the surrounding areas.
Noun: syn - er - gy (sin' er gee)
The interaction of two or more agents or forces so that their combined effect is greater than the sum of their individual effects. Cooperative interaction among groups, especially among the acquired subsidiaries or merged parts of a corporation, that creates an enhanced combined effect.
Through streamlined focus, effective systems, and leveraging individual talents a tremendous opportunity to grow exponentially has become a reality.  
And the Synergy Doesn't Stop There!
Through every closed transaction, all directly involved reap far more benefit than what could have been accomplised, if anything, separately.  Whether they are frustrated owners, credit/finance-challenged tenant-buyers, realtors, attorneys, contractors, credit repair specialists, mortgage brokers, we have become experts in creating
"Win-Win to the Nth Degree" Solutions
Yes, of course, we are "For-Profit" and our companies' high ethical standards insist that we also operate to create wealth opportunities for those we work with and service.  We simply won't do transactions that would compromise our integrity nor will we tolerate anything less from our business associates.
The indirect benefits of our business are also synergistic.  Maximizing property owner's equity keeps values strong and communities solid.
Everyone understands a price a can't be placed on Peace of Mind.  How much is a second chance worth to someone who has experienced hardship?  Have you ever longed for a "Do-Over" or to "Press the Reset Button" on the predicament at hand?  We've all made what we thought were good decisions at the time with the information we had, but only later discovered that it was in fact a mis-step.  How many times have you wished you could just turn back the clock and decide things differently?
Well, we can't literally turn back the clock for our clients, but we have time and time again provided services that relieved a tremendous burden from their shoulders so they could move on to better things.
Please take the time to review our Testimonials.  We are confident you will see
Real People Making A Real Difference
Mission Statement:
 "We Pride Ourselves in Offering Multiple Solutions
for Homeowners Who Can't Sell Their House Any Other Way
and in Turn
Providing Housing and Home Ownership Opportunities
to Those Who Can't Buy Any Other Way."
Keith & Shannon French's Blog Posts
ActiveRain Community
–

almost 10 years ago
Certifications
Over the years we've had tremendous success with Discount Retailing our Quality Renovations, which usually resulted in the highest sale in the neighborhood ironically.  But selling got tougher for everyone when the market shifted so we had to get creative yet again. We expanded our Rent-to-Sell/Rent-to-Own strategies for our own properties and developed our Link Options Program for other Property Owners.
This program has exploded tremendously and we use this strategy for our own properties as well as for other Owners who need more for their property than they can get from all cash offers or maybe even selling traditionally through an agent.  Although "Rent-to-Own" has grown in popularity recently (and we predict it will continue to do so while credit is tight), we've been successfully completing these transactions for over a decade.  Experience is key to these transactions as every single deal is different.  There's probably a half a dozen ways to put a deal like this together and we stand by our way as being the Best Way with strong, Maryland Attorney Approved contracts protecting both the Owner and the Tenant-Buyer.
Check out our available homes here: http://buybaltimoreproperties.vflyer.com
Attn: AGENTS!
Have an expired or about-to-expire listing that a Rent-To-Sell arrangement may work for your client? We work with Agents all the time enabling them to offer another alternative, and of course we make sure everyone gets paid :).  Or perhaps there's a deal that's fallen through because the Buyer didn't ultimately qualify (they had to be pretty close, right?) or perhaps the property didn't appraise. You may be thinking, why don't I just do this myself?  And you should...IF you have experience and know the laws governing such transactions.  If that's the case you would be providing a great service for your client and not potentially losing a commission and/or having sunk out-of-pocket costs.  However, we strongly encourage you NOT to set the deal up using the typical most common way we've seen Agents do it.  If you aren't experienced in (or can't finitely explain) the differences of a lease-purchase contract, a lease-option contract & a seller financing deal, then you could be setting yourself up for some BIGTIME trouble with some MAJOR consequences down the road.  If you have to ask "Why?" to this statement, then why not involve a seasoned, reputable company who is experienced with these transactions and who is NOT going to cut out your payday one bit?
Introducing a fresh new look for your Profile.
Click the 'Edit Profile' button below to enter 'Edit Mode' and continue the tour.